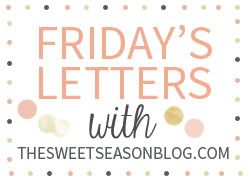 Dear sewing box,
why do I keep misplacing you? I can't find my needles and thread for my pillow! Help!
Dear homework,
I'm sorry I've been poor at keeping up with you! I promise, with all this newfound time at home, there will be no more issues this term! (once I catch up, that is)
Dear stud,
I really don't mind if you fall asleep while watching Good Eats every night, I mean, I guess Alton Brown's food science can be overwhelming!
Dear this past week,
I will never miss you. I am glad you are gone, this was the longest week yet for both of us!
Dear Dale,
please get fixed soon. It gets frustrating only having one car and being stuck at home all week! Why did your battery give out, and on base, no less?
Dear latch hook pillows,
y'all make me so happy! There was a granny in the waiting room at the naval hospital this week whom was so impressed I was crafting with y'all, and was sweet to talk to. Thank you Omom!
Dear ITT,
thank you SO MUCH for giving us amazing deals on Disneyland hopper passes. We cannot wait to use them in a few weeks! Eeek!!
Dear God,
I am so blessed by you! It is only in your will that I'm off my medicine for good, and made it through this most stressful week. Oh, and the ladies I have met through the bible study on base have made it all so bearable - I am grateful! Only you can orchestrate my life so well, and turn a horrible week into something beautiful.