Well, I think I'm going to try to keep this post short and sweet! This is a great month, because as I mentioned in my last post, it is a month of thankfulness. And I'm linking up with Katie from Going Coastal to find something I'm thankful for each day during this wonderful fall month of November.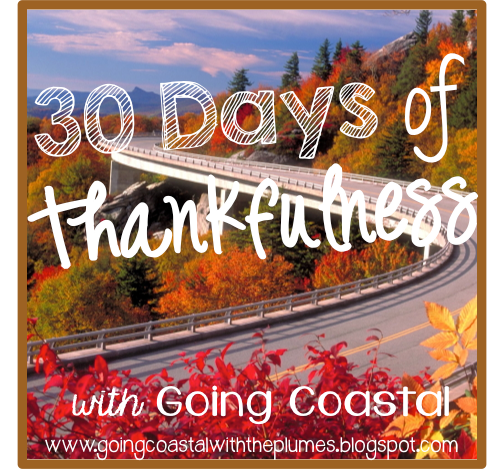 We all know I'm beyond excited for Christmas and the holiday seasons. But what comes before that, which many of us tend to overlook? The day to give thanks for all the blessings in our lives- that's right, Thanksgiving! So since last time I concentrated on what the bible study helped me through, this time I'm concentrating on the most important relationship in my life - that with my husband.
We have been blessed to be able to get a scholarship for military to be able to attend a marriage conference this weekend at a local resort. If you want to know more details, ask me, because they are nationwide! But for now, I want to point out something else. Today I am thankful for our marriage. Like any couple there are strains and ticks along the way, and we haven't been the greatest at picking up the pieces lately. But after the sessions today, we went to eat at a new place, then came home and I made dinner while we watched our wedding video. It's the little things - How sweet it was to watch our wedding video! To be reminded of that promise we made over 2 years ago to each other before God and our families. To re-live the moment when my father in law, who pastored our wedding, began with the famed "Mawwiage... Mawwiage is what bwings us togethaw, today..." speech from the wedding scene in The Princess Bride. How thankful I am for that little ice breaker on that great day. How thankful I am for our marriage and relationship, and how far we have come. For the hurdles we've jumped through in the past and even today.
Today, like any given day, but today especially, I am thankful for my husband. I am thankful for my relationship with Marshall. I am so grateful we are able to attend this conference, the last day of which is tomorrow. We have learned so much, and I am so excited to see how we use that in our life furthermore! Don't get me wrong, marriage is hard, it's falling in love that's easy. But I'm thankful for both. For all the hurt that's only made our relationship stronger. For watching our wedding video today and being reminded of the promise we made toward each other. For talking about our crazy journey on this wild ride called life. For remembering our Creator God in all of this, and his intent for our life and marriage together (Thank you Family Life!)
We have so much to be thankful for!