So I really like finding new link ups, if only I had the time! But this is one that I do have time for. I already was planning on counting at least one thing I'm thankful for during this month of November, just like last year, but doing so within a link-up is kind of a win-win! So today I'm joining Katie at
Going Coastal
to note what I am thankful for today...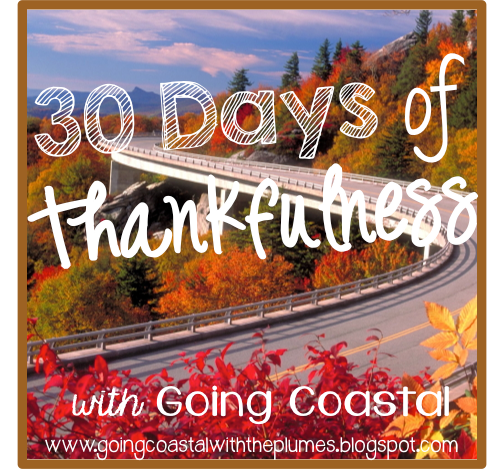 Well, there's a lot of things...
But one thing that I was reminded of yesterday is that great group of godly military wives I meet with at the bible study at one of the chapels on base every Thursday morning. Especially for one inparticular who has become my closest friend, just at the time a few months ago when I was giving up on actually meeting new ladies. We moved here the end of February and it took me until late August to finally meet another milso that will be there through anything with me, and me for her. I was going crazy as soon as we moved here, I threw myself into school and finding a job, I didn't have any free time in the summer with all of the summer camps every single day I was working, and then fall came. I needed something different - A change of pace. I am so thankful for going to that bible study at the start of fall, becoming a stay at home wife and student, signing up for a cake decorating class this month with another lovely lady, having some time to just slow down. Especially with how ridiculous work was going to be for fall - drive an hour to the school, teach for an hour, drive back home an hour - it wasn't worth it to keep going. The pay I got per class didn't even cover gas. Don't get me wrong, I LOVED the summer camps, but the classes during the school year didn't cut it for me. It was my new Christian friend (seriously, a lifesaver!) who helped me to realize that job was way too stressful with the 18 hours I'm taking this fall. It barely paid. I was behind on school. I needed a break.
And boy am I happy that I took that break! Now my days consist of studying, homework, cleaning, groceries, taking Scruffy for a walk and going to the park, going to the beach, and doing all those behind the scenes wifey things that many overlook when they think..."How do you not have a job?!" Seriously, having a job isn't the whole world. Being sane is. I was driving myself crazy - I couldn't take it. Now I'm looking for opportunities where I can work from home, we'll see if that fruits anytime soon. But for now, I'm content, and very thankful, to be able to stay at home so I can concentrate on being a better wife and on my senior year. Then we'll see where that takes me!